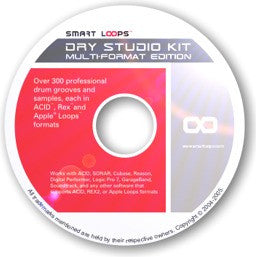 Dry Studio Kit
Regular price $29.00 Sale
Format: ACID WAV, Apple Loops, REX2 (44.1kHz, 16-bit, Stereo)
Media: Download
Unique Loops & Samples: 385
Total Loops & Samples: 770
Download Size: ACID WAV 198 MB, Apple Loops 198 MB, REX2 139 MB
Drum Kits: 2 Acoustic Drum Kits (Dry, Power Snare)
Recommended Tempo Range: 75-150 BPM
Time Signature: 4/4
Styles: Rock, blues, country, pop, heavy rock, metal, funk-rock
Compatible programs: Compatible with all leading Mac and PC audio software, including Ableton Live, Acoustica Mixcraft, Adobe Audition, Apple GarageBand, Final Cut, Logic and Soundtrack Pro. Cakewalk Music Creator, Project5, SONAR and SONAR Home Studio, Digidesign Pro Tools, M-Audio Session, MOTU Digital Performer, Propellerhead Reason, Sony ACID XPress, ACID Music Studio, ACID Pro and Vegas, Steinberg Cubase, Nuendo and Sequel, and other programs that can load ACID WAV, WAV, Apple Loops, AIFF and RX2 files.
All the loops in the Dry Studio Kit collection have been recorded dry so you can add your own effects, and mix the drum loops the way you want. Samples of the individual drum and cymbal hits are also provided so you can easily add a sample to an existing loop to create new and unique loops that's are a perfect match for your songs.
An additional 275 loops mixed with Power Snare are also included. The Power Snare loops are the same loops but with a powerful reverb on just the snare drum. These were formerly only available to registered Dry Studio Kit users on the Dry Studio Kit EXTRA CD.
The Dry Studio Kit loops were designed to be a perfect companion with the Smart Loops Percussion Kit loop collection.